Albany Mediation Attorneys/Lawyers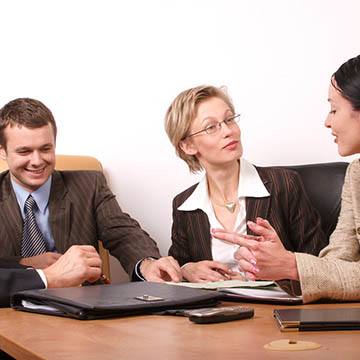 Rhoades Cunningham & McFadden, PLLC has a vibrant and expanding mediation center run by Karen Rhoades, an experienced divorce attorney and trained mediator.
The mediation process allows you to focus on what is beneficial for your family rather than what the law dictates.  During the mediation process Attorney Rhoades will help facilitate the communication between you and your spouse as well as exchange financial information.
There are many benefits to divorce mediation. The ability to co-parent in the future – if you have children – is one major benefit to divorce mediation. Should you go through litigation, co-parenting after that stressful time can be incredibly difficult, and even impossible in some cases. Mediated results also have a significantly higher rate of compliance by both parties. This is because mediation helps to create the agreement together.
Most people are not happy with a decision made by a judge who does not know you, your family or your children. Mediation mitigates the need for a judge. If you think you can amicably agree to certain terms, or the thought of a judge deciding your fate scares you, it may be in your best interest to try mediation. Contact us today to schedule your mediation session.
Several Testimonials From Our Clients…
"Karen Rhoades is an exceptional divorce attorney and I would highly recommend her services to anyone in need of them. She and her team were incredibly professional and they did a great job of explaining and facilitating the process. Karen meets you wherever you are to explain your options and present you with ideas based upon her knowledge and experience. My divorce was more amicable than many and Karen did a terrific job respecting the mediation process I was using. Divorce is never easy, but Karen takes what can be a complicated process and creates a streamlined one. Karen and her co-workers are easy to talk with and are always looking out for your best interest."
"Regarding attorney John McFadden:  Exceptional lawyer, was able to successfully get me out of some trouble I never imagined could have happened. Highly recommended!"
"I had a complicated and emotional legal matter with my ex.  John [McFadden] was there every step of the way fighting for my rights.  I am glad I had John on my side."
"I felt my divorce would go on forever before I hired Attorney Rhoades. She was incredibly professional, returned my calls and emails promptly and always explained my case and my options to me in detail. In the long run I was able to get everything I was asking for and more! Karen was always prepared, was a strong advocate and always spoke with knowledge about my case. Thank you so much Karen for the great job you did!! You're professionalism, courteous attitude and willingness to fight for my rights should not go unnoticed!!"
"Professional, focused, knowledgeable and trustworthy"
"After calling several attorneys in the area for advice, I found Mr. McFadden and received a free consultation and his fee was very reasonable. he is very knowledgeable on the laws and rights of people charged with drug offenses."
"Dan Cunningham my divorce two years ago.  He did a great job and I refer him to all my friends.  This firm is the best!"
"My experience with Karen [Rhoades] was exceptional. I was going through a pretty tough time in my life when I contacted her office and her knowledge and experience in the law was like a breath of fresh air during this rough time. I would recommend her to anyone with a legal problem."
"I can't say enough about this firm.  They were thoroughly professional, knowledgeable and lead me through a tough divorce.  Highly recommended."